For fans of: The Ghost Inside, Chunk! No, Captain Chunk!, Gideon, For the Fallen Dreams, COUNTERPARTS, Stick to Your Guns, and Wage War.
Born out of a desire to bring highly relatable, melodic hardcore back to where it started, Second Wind has had a take-no-prisoners approach to music since the beginning. While their hook- and riff-driven songwriting forms their sonic foundation, Second Wind's mission goes far deeper than their catchy tunes. Lyrics in each song are carefully-crafted journeys of self-reflection, appreciation for the blessings of life, questions about painful problems, and struggles with interpersonal and intrapersonal issues.
Second Wind is ready to carry the torch into deeper transparency within this genre. Second Wind's debut EP Vital releases on 6/19/20 through all major music streaming platforms and online retailers.
Check out this video!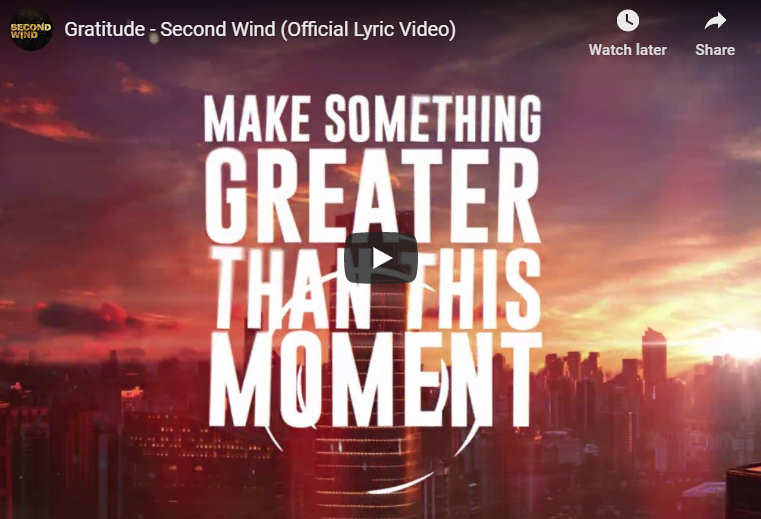 DANE:
I would like to thank Brad for starting this journey on his own and welcoming us all in with open arms. My fellow bandmates Jordan and Austin for their continued hard work and jumping in head first with us on this endeavor. All our collaborators for giving us a leg up on starting this off strong. My family who have supported me all these years in music and creative outlets. My lady Katy for her support and feedback especially in this new role as a vocalist. Finally, thanks to all of you listening, for your support, and for joining us on this crazy ride. We are all in this together.
AUSTIN:
I would like to thank my parents for being supportive of my dream, my friends for keeping me motivated, and all of my favorite bands for inspiring me to play.
JORDAN:
I would like to thank God for putting this in my path. I would also like to thank Brad and Dane for taking me in, Austin for his hard work. My family deserves more than a thank you for their love and support. Lastly, I want to thank everyone that I've had the pleasure of collaborating with. They have all challenged and supported me in different ways and I appreciate every minute of it.
BRAD:
I'd first like to thank God, who has given me life itself, saved my life, and is the source of all that is good in this world. Second, I'd like to thank my wife Lucy–for not only being the band's biggest fan, but remaining a huge source of support and reliable feedback for me and us when we need it.
Third, naturally, thank you to Dane, Austin, Jordan, Brandon, Scott, Aaron, Kevin, and Marcello for contributing to and making possible what is my (collectively) proudest musical achievement to date. This was absolutely a team effort and we could not have done it alone.
Fourth, thank you to my parents, Steve and Cindi, who provided a space for me and other bands to jam, make loud noises, and get ready for shows. You guys are the best parents a drummer (and musician) could ask for.
Thank you to any musician, professional, or other artist who has ever inspired and encouraged me to chase my music dreams. Art ABSOLUTELY helps make the world go 'round and we are all better because of it. Thank you for those who have paved the path before us. Without you, music would not be a passion of mine.
A HUUUUGE shoutout to Carl Hitchborn–for being our mentor, leading the way into the (desperately needed) brand-new music industry, and for being the example that many other musicians and industry lifers need right now, and well into the future.
Thank you to Kyle Lemaire for being an incredible professional resource, teaching us a bunch of stuff we'd just be guessing on otherwise, and being blunt when necessary. Your material has helped us so much.
A big thanks to John Gold and his entire team for putting together incredible training courses and professional materials that help serious musicians make an impact in today's ever-changing digital economy. Big, big thank you to Omari MC, Daimoon Media, and MLADE Productions for helping us get our music off the ground back in July 2019.
I'd also like to thank the musicians, engineers, mastering artists, promoters, and other industry professionals I've had the pleasure of working with in my 12+ years in music.
Last but never least, thank you for picking up a copy of our music. Without you, we would not be able to do this! 

Lead guitar, rhythm guitar, and bass guitar written, performed, and recorded by Kevin Kerestes and Marcello Garcci for Mettle, Finisher, and Gratitude.
Follow the band at these links!
https://epkassistant.com/epks/secondwindepk/
https://www.facebook.com/secondwindofficial/
https://www.facebook.com/secondwindofficial/
https://www.youtube.com/channel/UCoOaJ-V3byms5bJLjwBdQyg
https://officialsecondwind.bandcamp.com/
https://linktr.ee/officialsecondwind
https://second-wind.artistperfect.com/videos/gratitude-second-wind-official-lyric-video
Originally posted on the Metal Devastation Radio website